Stadium MAP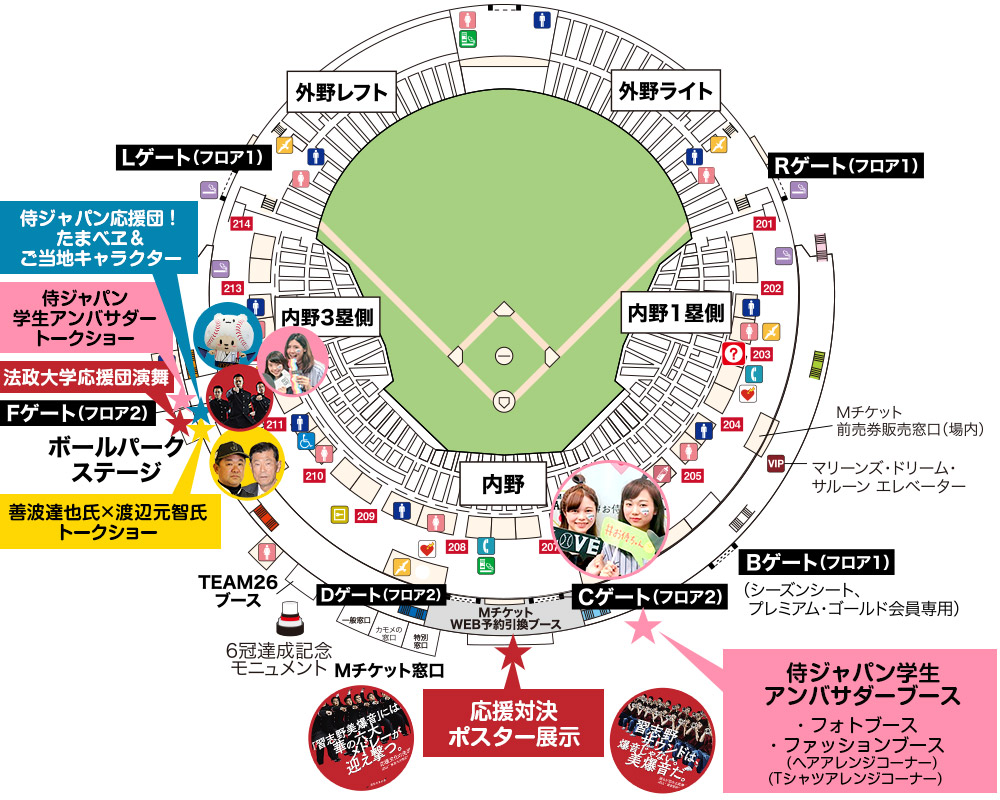 Stage event schedule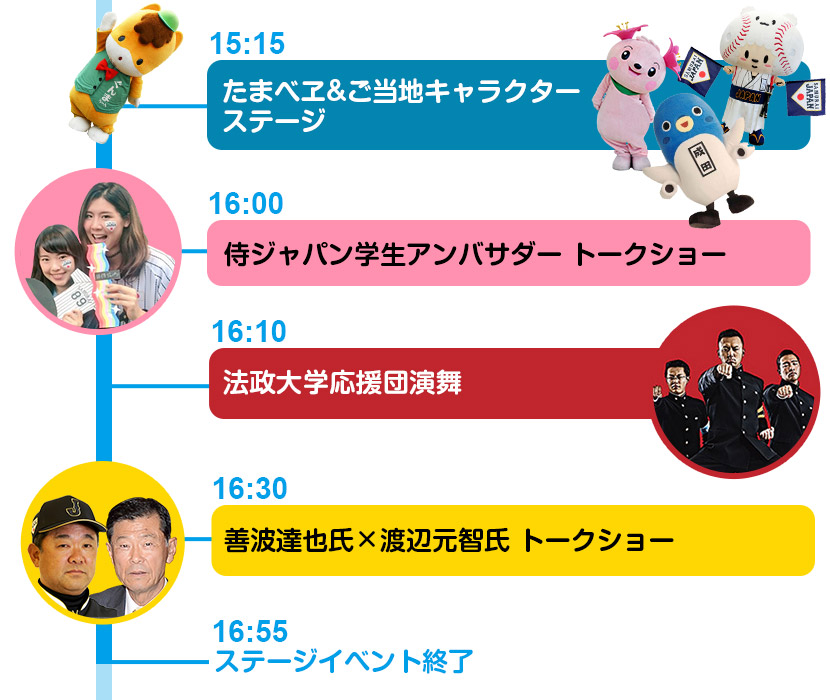 SAMURAI JAPAN student ambassador booth
Photobooth
After 15:00 - game is over until 30 minutes (plan)
1st-base side C gate lower the first floor area
We establish SAMURAI JAPAN photo spot. Photo props which assumed instagram-like photoframe which is usable to souvenir picture and baseball and SAMURAI JAPAN motif prepare a lot. We distribute SAMURAI JAPAN original face seal to people who came to photobooth to play by the first arrival. Because number is limited on first-come-first-served basis, it becomes the distribution end as soon as we disappear.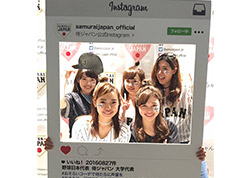 Fashion booth
1st-base side C gate lower the first floor area
Hair arrangement corner
Until 15:00 - game start (plan)
Commencing with SAMURAI JAPAN student ambassador recommended hair arrangement, we can enjoy hair arrangement lecture by professional hairstylist.
※We do hair arrangement and actually present ambassador handicraft hair accessories to the first 100 people in one that he/she posted on SNS!
T-shirt arrangement corner
After 15:00 - game is over until 30 minutes (plan)
It becomes present exchange to person having exchange ticket which we distributed by Collegiate baseball championship on July 15. We arrange T-shirt on the spot, and we play baseball happily, and let's watch a game!
Stage event
16:00 ... (plan)
3rd-base side F Ball Park stage
SAMURAI JAPAN student ambassador is going to appear for stage event, too.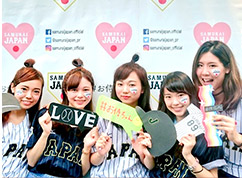 What is SAMURAI JAPAN student ambassador?
It is student intern team which we composed through "Collegiate sports channel" how the Japan National Baseball Team "SAMURAI JAPAN" comes to have you support for the young groups such as high school student or the university student generation. Five university student members argued in "viewpoint of university student" after the start in the spring of 2016 and planned this booth based on experience of booth exhibition in promotion and "the 40th Japan and the United States Collegiate baseball championship" in SNS mainly on Instagram.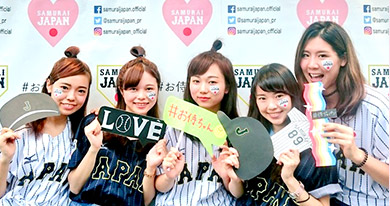 ※From photograph L
Mai Mima leaf (Toyo University department of literature 11th grade)
Yuri Suzuki (Rikkyo University modern psychology department 10th grade)
Tomoko Takeya (department of Yokohama National University education human science human being culture course 10th grade)
Kaede Shiga (Otsuma Women's University society information department 12th grade)
Village Yamanami (peroponesosu graduate school Olympics study 10th grade)
SAMURAI JAPAN cheering party! tamabe e & here character
Local character flocks in QVC Marine field!
We sing on Ball Park stage outside place with tamabe e and dance and,
We heap up outside by favorite performance!
Growl

Support Samurai Tamabe

kimipyon

Gunma

sanomaru

Asakusa new nyaka

Cheever

P man

pinyattsu

fukkachan
Event Overview
Tournament Title
SAMURAI JAPAN Send-off Match Japan High School National Team vs. Japan Collegiate National Team
Host
Public interest incorporated foundation Japan Student Baseball Association, NPB Enterprise, Inc.
Control
Public interest incorporated foundation Japan High School Baseball Federation, All Japan University Baseball Federation
On the date
Saturday, August 27, 2016 18:00 game start (we plan at opening of a gate 17:00) ※Rain out
Stadium
QVC Marine field (1, Mihama, Mihama-ku, Chiba-shi, Chiba)
TV broadcast
BS wisteria 18:00 - / J SPORTS (on-demand) / AbemaTV
Tournament rules
・There is no / extension that there is no / called game which there is game form DH system in in
・Game ball international game ball (product made in MIZUNO Corporation)
・We use wooden bat with both teams
Matchups
Japan High School National Team (1st-base side, home) vs. Japan Collegiate National Team (3rd-base side, visitor)
Broadcast Schedule
Broadcast time
Commentary
Live broadcast
BS wisteria
Program site
18:00 ...
※Until live broadcast /'s greatest extension 21:30
Kennichi Yazawa,
Motonori Watanabe (Yokohama High School baseball club's honorary manager for life)
Daiki Tanaka (announcer at Fuji TV)
J SPORTS (on-demand)
Program site
Live streaming
Masayoshi Ogura (Manager at Nihon University third High School baseball club)
Toshiharu Shimamura
AbemaTV
Program site
Live streaming
※Subscribing (pay) is necessary for the seeing and hearing of J SPORTS (on-demand).